We are located just 3 miles east of New Baltimore on M29
"The most important period of life is not the age of university studies, but the first one, the period from birth to age six.  For that is the time when man's intelligence itself,
his greatest implement, is being formed. " ~Maria Montessori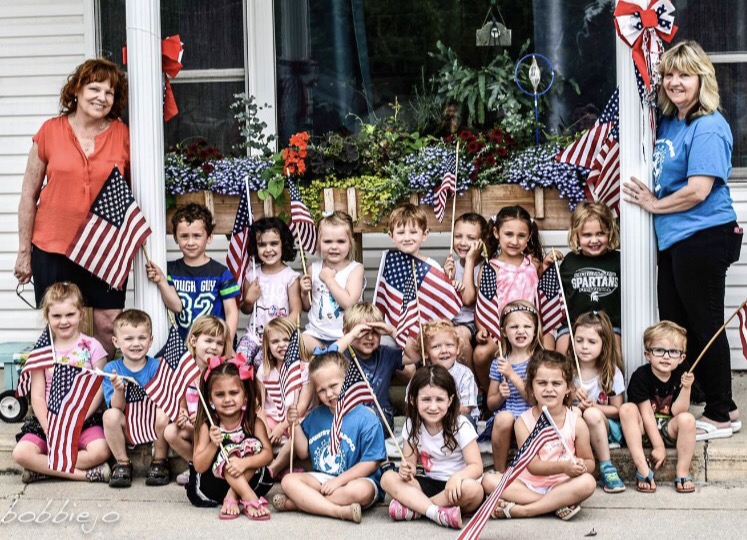 "The significance of observation is not the imparting of information but the facilitating of discovery, helping the child to explore and to learn. We learn, we teach, we live effectively out of who we are. Who we are propels us in life. It is the nature of birds to fly, of fish to swim, and each of us is graced with a personality destiny that we must discover. And that is where we as parents and teachers best serve our children – helping them to discover who God made them to be. Observation is the key to help aid their discovery."
Country Meadows Montessori School is available to pre-school children 3 years and potty trained through 2nd grade.
If you are interested in learning more about enrollment, please contact us through email at [email protected] to schedule a tour with your child. You will be able to observe our children engaged in their natural joy of learning, while developing their full potential of success!
The curriculum of Country Meadows Montessori provides interdisciplinary studies of language, creative writing, math, science, geography, history, art and physical activity. This curriculum is taught using Dr. Maria Montessori's world-renowned "hands on" teaching method. In order to achieve these high standards for your child, we are proud to have on staff three exceptional Montessori Certified teachers and one part-time elementary teacher. Their extensive experience and Montessori training provide them with the needed insight to accommodate the individual needs of each child within a multi-age classroom.
The essence of the Montessori philosophy is to develop within the child an ingrained sense of responsibility toward themselves, society and completing a "job well done". We here at Country Meadows Montessori feel fortunate to have offered this philosophy to our community for over 20 years and now to your child.
OUR MISSION  STATEMENT:
We, the team at Country Meadows Montessori Inc., are committed to designing and refining an environment that will guide the children on a path of life-long joy in learning.  Another integral part of our program is to spark enthusiasm for their own unique self-construction, as well as motivating the children to fulfill their potential.  Our mission is to teach and model self-respect, respect for others, and respect for the environment.
The Montessori Method is the key to obtaining these goals.  In developing self-respect and in respecting the rights of others, as well as developing self-discipline, the foundation is laid.  The next layer is the building of self-esteem through success at developmentally appropriate work.  Each exercise, sequentially building one skill upon another, fosters self confidence as an independent learner.  Every exercise enhances the child's ability to organize, refines the child's
coordination and lengthens the child's concentration span.  All these practical skills lead to an independent, joyful learner for life.
Ms. Jeanette Bostick, Directress
Belief Statement:
We respect the worth, dignity and uniqueness of each individual. We believe in an environment of collaboration and cooperation among parents, students and educators. We educate the spirit and character of the child, as well as their minds.
Available Times and Tuition Amounts for the 2023/2024 School Year:
Full-Day (8:30- 3:30)——$6,400/year (10 monthly and equal payments of $640.00 per month)
*other options are available and include:
Full Day (8:30-3:30) T, W, Th only———————$5200.00/year
(10 monthly and equal payments of $520.00 per month)
Kindergarten-2nd Grade is Full Day (8:30-3:30)  $4610/yr
(10 monthly and equal payments of $461.00 per month)
*A 10% discount is offered for 2nd child
---
SUMMER DAY CAMP: July 5th-August 19th, 2023.
We're offering either a 5 day Monday through Friday program, or a 3 day T-W-Th program. No single or two day programs available.
Half Day (9-12) 5 days a week  $675 (2 payments of $345)
Full Day (9-3) 3 days a week T-W-Th $590 (2 payments of $299)
Full Day (9-3) 5 days a week $875 (2 payments of $450)
Country Meadows Montessori offers a fun yet educational Summer Day Camp for children ages 3-10. Please pay attention and read the information in the "handbook" if you have children ages 3-10. Swings, slides, climber, and a huge sandbox give ample opportunity for children to enjoy the outdoors. Don't forget to have your bathing suit and towel available at all times. When weather permits, we have 'Wet and Wild Days!'
Our curious students of nature spend lots of time tending to our beautiful garden beds. Gardening is an activity truly enjoyed by the children and they take great pride in their efforts and discoveries.
The cost of the summer day camp depends on the option you choose. Please email or call to request a Summer Registration Form today!
Summer Calendar of Events/Themes:
Week 1: Insects
Week 2: Water
Week 3: Gardening
Week 4: Native American & Face Painting
Week 5: Botany
Week 6: Animal Habitat
Week 7: Dinosaurs
*Fall Orientation is during week 6 and 7 and is included with Summer Camp.
LAST DAY OF SUMMER CAMP: Thursday, August 17th
SUMMER RECESS: August 21st thru September 6th
PARENT-TEACHER MEETING: Tuesday, September 5th
FIRST DAY OF FALL SEMESTER: Wednesday, September 6th
---
Sincerely,
Mrs. Jeanette Bostick
Directress
Country Meadows Montessori
8622 Dixie Hwy.
Fair Haven MI, 48023
Phone: 586-725-2042
[email protected]
PLEASE CONTACT US THROUGH EMAIL.
Visit our Facebook Page
Affiliations:  NAMTA
Michigan Montessori Society
AMS Certified